Would you be willing to be away from your partner for most of the year?
Would you be able to spend 24 hours a day, seven days a week with him/her?
This is what everyone that starts a relationship with a yachtie needs to understand and accept if you want your relationship to work.
Mixed feelings, insecurities, jealousy, sadness and homesickness are some of the feelings you might experience at times.
But you will also be sharing your life with the person you love.
Someone that will make sure the time you spend together is the best time of your lives.
Because only you two know the feeling when he/she needs to board that plane again.
Until next holidays.
I have put together some testimonies from five sucessful yachtie couples.
Some met onboard, some met while travelling, some are living the dream working together…
But all of them have something in common: they wouldn't change their life together for the world.
Enjoy these beautiful love stories!
RANDI BARRY, and her husband. Happily married and living in Fort Lauderdale.
I never intended to date, let alone marry a yachtie! I joined yachting to make money to go to fashion school in Paris.
After a year of working hard and saving up, I went off to Parsons with a heavy heart. I had met the most hardworking and motivated guy.
We would go together to the gym every day, push each other to achieve our goals, stand watch together…We were even on the same morning shift on charter to set the boat up.
Dating other crew onboard was not allowed! But we did enjoy some late nights on the quayside at Port Vauban chatting about our families and life.
I had sailed the Med ports before but getting to enjoy a wander in Capri or take in a sunset at Stromboli with him was so especial.
He wrote me letters when I went off to school, telling me about the boats travels.
When I returned back to yachting to save more for my education, we ended up getting a couple's job.
I did get back to Paris eventually, to have a picnic on the Champs de Mars with my love. 
We now make memories sharing a home, a dog and two businesses in Fort Lauderdale.
Although my life turned out differently that I had imagined, it's absolutely perfect.
I am glad I trusted the process!
Follow @nauticnomad for yachting reviews for the world on water from Captains and crew who've been there.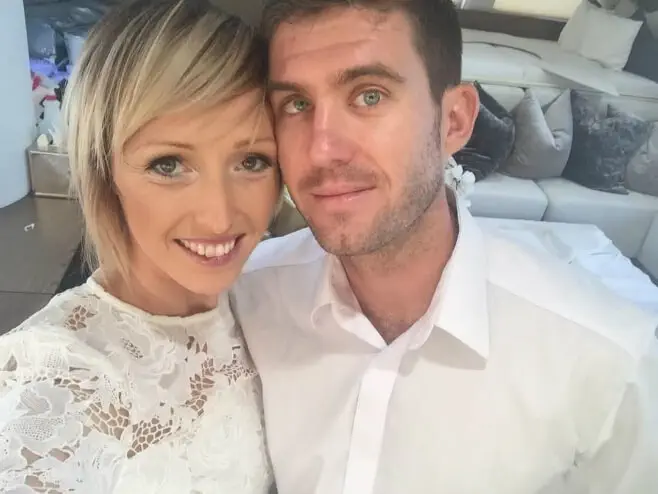 MONIQUE STEYN, Second Stewardess, and her husband, Bosun.
Working on the same yacht at the moment.
Our story began in 2015, when we had been dating for 4 years already then. After 6 weeks in the industry we got a job together.
The boat was terrible. Stayed on there for 8 months but it grew us closer together because we had no one else. 35 meter. 
After there we went home and he proposed.
We came back to the States and continued looking for a couples job. Vowed not to work apart. We did some temporary jobs here and there and just day worked for 7 months. Till we got on Majestic.
We joined as Jr Stew/Hairdresser and him as Jr Deckhand/Personal Trainer. We've been on here for 17 month now. We've both been promoted up to Second Stew and Bosun now.
It's been so great working together. We got married in November last year.
We don't get sick of each other. I even complained that we don't spend enough time together! Hahaha.
But the down side is that if you do have a disagreement, people get in your business about it. But I've gotten used to it now.
We just try to go to the room and discuss what we need to.
Follow Monique's adventures here.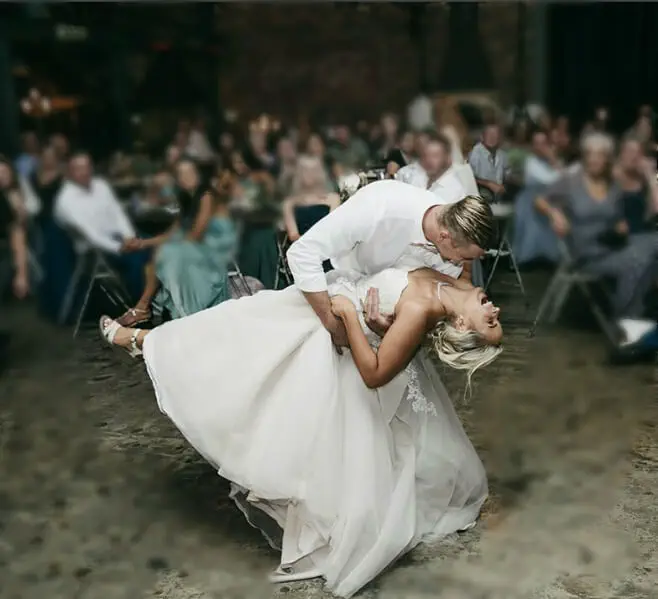 KAMILAH FOX, Stewardess, and her partner, Deck Engineer.
Working together at the moment onboard a motor yacht based in Australia.
After discovering the Superyacht industry, my partner and I worked on seperate boats for the first 18 months of our careers.
We were lucky though to still live ashore together, but during the season, we were like ships in the night, coming and going at all hours, completely exhausted.
There was a time where we didn't cook a meal together for 4 months.
Our end goal was always to work together as a Stewardess and Deck/2nd Engineer. We were just about to start packing our bags to head to Palma for the job hunt when a couples job came up in Australia (a rarity here!)
In a few short weeks, we sold everything in the house, sent my cat, Ruby, to my Dad's house (I visit whenever I can, I miss her!) and moved onboard our new home, a private yacht based out of Sydney. 
We spoke for hours before accepting the position, about how a live aboard couples job could affect our relationship, in both positive and negative ways.
Thankfully we are both quite independent and understand the desire for time alone, or the frustration when you need to get off the boat for the night. 
I had a fantastic role model, my first Chief Stewardess and her First Mate partner, watching their dynamic every day at work.
My advice is to be honest with each other. If you need a break from the other person, tell them! If I sense my partner is getting a little fed up, i'll cover his watch for him so he can go out and spend time with his friends.
I guarantee that this always works a treat. Sometimes we all need a little break. We often spend our weekends and annual leave pursuing seperate hobbies and visiting our families.
Most importantly, remember you're a team, and you're in this together. No one else can support you the way your partner does.
Let the job bring you together, not drive you apart. Keep your relationship issues private from other crew, and be realistic, don't expect to stare lovely into each others eyes all day, everyday.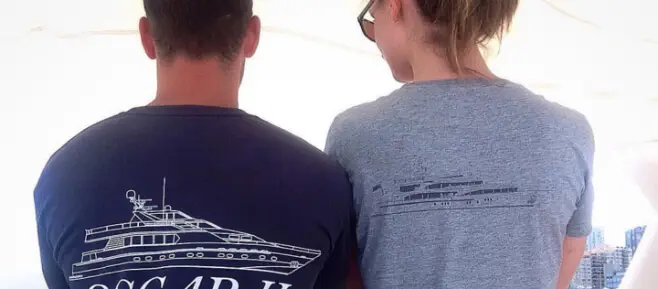 Kirsty Sabarre and her partner's love story.
Working on the same yacht at the moment.
Yachting is not a 'normal' lifestyle and living away from your soul mate is certainly not 'normal'.
It takes a very special connection to pursue a life in love with a yachtie.
It certainly has not been all rainbows and sunshine.
Sleep deprivation and last minute boss requests (how dare they intefere with our personal plans!) was enough to be left feeling frustrated and disappointed at times.
It was a difficult period working on separate yachts, however we were also lucky our itineraries were similar and our stars aligned at times.
We built our foundation on understanding, commitment and communication. It also made it so much easier for both of us having great crew to support and listen.
It always has been important for us to share and work toward the same goals. 
Today, we work together on a yacht and he is the first and last person I see every day, we stand side by side, support and encourage eachother. Talk about one extreme to the other ! 
There isn't a day that goes by that I don't count my lucky stars and would do all the difficult moments again in a heartbeat for the love we share today.
I am very grateful to share this privileged experience and industry with my best friend.
Kirsty has a beautiful Instagram feed and you can follow her here.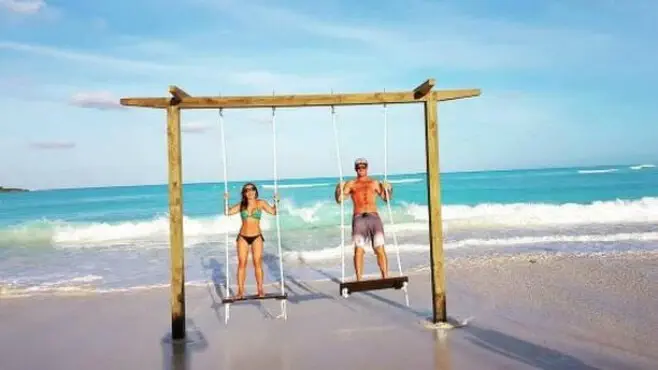 Marcela Mota, Stewardess, and her partner, Chef.
He is on a 2:2 rotation and she does freelance work.
My love story is quite different than other yachties… 
My partner is an Australian Chef and I am a Brazilian pharmacist.
We met when Brendan was backpacking in Brazil and we fell in love at first sight.
We travelled a bit together around South America and then he needed to return to Australia and I had six more months left for my Graduation.
Then we decided to join yachting to be together, and luckily enough in two weeks, greenies, we found a couple's position on a 38 meters.
We did three seasons working together and at the end of last year he found a 2:2 rotation and I started to try find temp gigs but hasn't been easy!
So I had done all: working together and living apart haha
Do you want to see more beautiful pics from Marcela? Follow her here!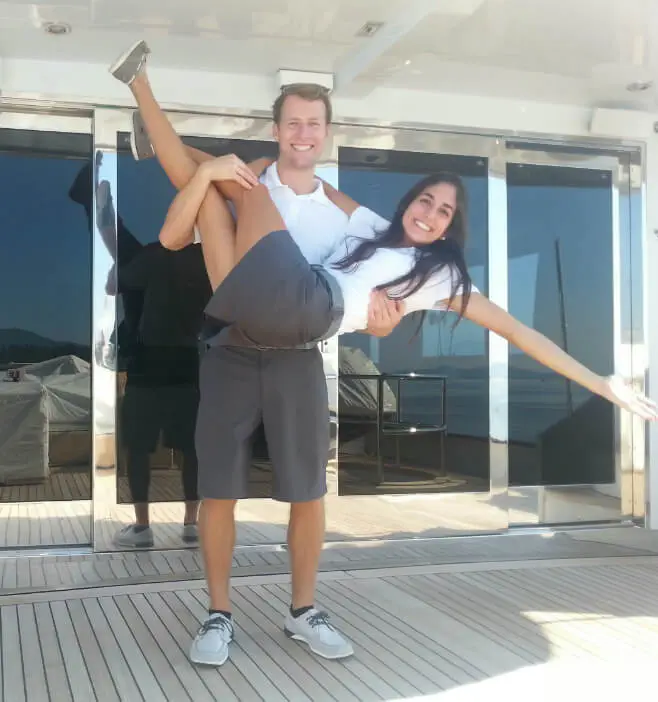 I hope you enjoyed reading these as much as I have!
Although many people might tell you your relationship won't work, it's not worth it, you can find someone «on land» etc etc… the heart wants what the heart wants.
If your soulmate is a yachtie, don't let people get into your head, because, remember:
«Ships don't sink because of the water around them, ships sink because of the water that gets in them».
Randy, Monique, Kamilah, Kirsty, Marcela and my own stories are the best example that, if you love each other, yachting won't get in the way.
Do you like this kind of posts?
If you have any especific topic you'd like me to talk about, leave a comment below!
Follow my Instagram for more 😉